Home » Hunting Gear » Review of the L.L. Bean Pa'tridge Strap Vest II
Review of the L.L. Bean Pa'tridge Strap Vest II
Photo by Wil Sensing
Take a seasoned look at the practical use of the L.L. Bean Pa'tridge Strap Vest.
There is a part of me that wanted to like this vest simply to satisfy the fact that I am a New Englander. Our storied history in "Pa'tridge" hunting has been evident through the evolution of storytelling in books, paintings and magazine articles. So with a heavy heart I must conclude that the L.L. Bean Pa'tridge Strap Vest did not hold up to what I had hoped for.
There is this line with strap vests that goes from overly simple to the complex guide vests on the market. A bit of a minimalist at heart, I have gravitated towards something in the middle. Just enough pockets for my gear, a comfortable and practical fit, and the ability to withstand a lot of hunting in ruffed grouse and woodcock covers. Although this vest solved some of these requirements, it fell short in others.
My vest from the previous season was the Orvis Waxed Cotton Strap Vest. If I had to choose between the two, I would go with the Orvis. But that vest proved to have issues like fit, the straps always falling off my shoulders and the buckle at chest height having fallen off its track multiple times during the season, making for a frustrating fix. The Pa'tridge vest solved the issue of fit, very comfortable in comparison, I must say. The lower waist belt kept the vest snug to my body, making for ease of movement while trying to bend and duck my way to a point in woodcock cover very pleasing. The straps never fell from my shoulders.
As far as pockets go . . . well, L.L. Bean needs some feedback. Getting a bird into a pouch should not be a frustrating process that often ends in asking a friend to do it for you. That would be my single greatest criticism of this vest. Past that, I just did not have enough pockets in relation to owning a bird dog. Now that's personal preference, and frankly I should have been more conscious in my decision to understand two front pouch pockets would not suffice.
If I only needed one pocket for shells and a second for spent shells then the pocket situation was elegantly simple. The hidden pocket inside the left side of the vest is a great place to store keys and the back pocket is great for my bird dog medical kit. But what about my leash and my dog collapsible bowl (yes, I spoil my dog)? I found myself mixing those in with shot shells which made things cumbersome and added an unwelcome element of paranoia about losing gear.
Now add in those zippers. Why on earth those zippers in the back even exist is beyond my thought process. According to the website, it's for "easy cleaning." But I must say if I could get a bird in it without difficulty then cleaning would be a mere simple problem to be solved in the warm and comfortable confines of my home in off season instead of me having to literally take my vest off at points in frustration–when alone–to get a bird into it.
Read: Review of the L.L. Bean Technical Upland Vest Pack
With time, the zippers began to unzip themselves in the field which I heard is an issue from multiple friends who have the same vest. Some resorted to sewing it shut; I had opted for a heavy-duty safety pin in quick fix fashion. Nevertheless, the rest of the vest did hold up with a lot of hard hunting. The materials themselves were certainly of high quality.
Two seasons, two New England brand vests and I find myself wondering which vest I shall try next season. My concern with many vests is the lack of what appears to be feedback from actual hunters. It would often seem that some brands have become too big (perhaps the corporate decision makers are just too far removed from consumer experience) to truly care about the hunting aspects of their brands. Like the redheaded stepchild, it is no secret that many companies even lack employees that hunt–yet who run hunting development in clothing. Just look at the staged photos in catalogs and the results in the gear. One must shake their head in wonder. Hunting vests are not styling statements.
For the price of $119, free shipping, and then a 20 percent coupon code they emailed me once I let it sit in my cart, I do not feel cheated by this vest as the price is reasonable for the value. It may be a practical solution for a more casual hunter without a bird dog in tow if I am being fair. But the Goldilocks in me has now crossed four strap vests off my list. This makes me wonder if it's time I move to the more complex "guide" style strap vests for future use. If so, I will certainly consider the L.L. Bean Technical Upland Vest Pack as an alternative–especially if it can retain the comfort of this one.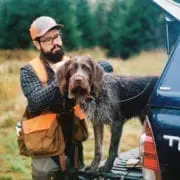 A.J. DeRosa
A.J. DeRosa founded Project Upland in 2014 as an excuse to go hunting more often (and it worked). A New England native, he grew up hunting and has spent over 30 years in pursuit of big and small game species across three continents. He started collecting guns on his 18th birthday and eventually found his passion for side-by-side shotguns, inspiring him to travel the world to meet the people and places from which they come. Looking to turn his passion into inspiration for others, AJ was first published in 2004 and went on to write his first book The Urban Deer Complex in 2014. He soon discovered a love for filmmaking, particularly the challenge of capturing ruffed grouse with a camera, which led to the award-winning Project Upland film series. AJ's love for all things wild has caused him to advocate on the federal and state levels to promote and expand conservation policy, habitat funding, and upland game bird awareness. He currently serves as the Strafford County New Hampshire Fish & Game Commissioner in order to give back to his community and to further the mission of the agency. When those hunting excuses are in play, you can find him wandering behind his Wirehaired Pointing Griffon in the mountains of New England and anywhere else the birds take them.