This traditional Irish dish can be adapted to upland game bird meat for a delicious American twist.
This recipe is based on a traditional Irish meal: Dublin Coddle. Some origin stories suggest this stew (more of a casserole, really) was created by devoted Irish wives who threw this together and left it simmering late into the night for their pub-loving husbands. Regardless of this speculative origin, the fact that this is an immensely popular Irish dish and comes in many variations is certain.
Coddle traditionally calls for Irish banger sausages, which are hard to find locally. l made the sausage in this recipe with upland birds and some pork shoulder. I used rooster meat as my main protein. Additionally, I don't see sense in stuffing pheasant meat sausages since coddle calls for you to ultimately cut up said sausages. Therefore, I used loose sausage for this recipe. The flavor is the same; no casings or sausage stuffer are needed. You will need a meat grinder, though.
The rest of the stew is straightforward. However, you'll find no bacon in this variation. Besides bacon, this dish pairs incredibly well with freshly baked soda bread. My wife (@BespokeBundt on Instagram) made this loaf. If you want to learn more about the baking side of this spread, please feel welcome to give her a follow. Get the good Kerrygold varieties for the butter that goes on the bread and the cheese for topping your potatoes. After all, you should treat yourself this St. Patrick's Day.
Upland Dublin Coddle
This traditional Irish dish can be adapted to upland game bird meat for a delicious American twist.
Prep Time
20

minutes
mins
Ingredients
Banger Sausage
1

pound

ground upland bird meat

5

oz

ground pork shoulder

1

tbsp

kosher salt

½

tbsp

freshly minced sage

½

tbsp

freshly minced rosemary

½

tbsp

freshly minced thyme

1

tsp

white pepper

1

tsp

marjoram

½

cup

Guinness

½

cup

plain breadcrumbs

Olive oil for cooking
Stew
1 ½

,medium

yellow onions

chopped

2

tbsp

freshly minced garlic

1

cup

Guinness

3

cups

chicken stock

5

russet potatoes

sliced 1/-4-inch thick, parboiled then broiled, seasoned

7

oz

Kerrygold Grader's Select Vintage Irish Cheddar Cheese
Roux
¼

cup

flour

2

tbsp

sunflower (or similar) oil

Dash of Kitchen Bouquet Browning Sauce
Optional Garnish
finely minced chives, freshly chopped Italian parsley
Instructions
To make the sausage, make sure your meat is ice-cold and barely above freezing. Grind the bird meat and pork together through a fine grinding plate. After grinding, if the meat is no longer ice-cold, add it to the freezer for a half hour. Also, make sure the Guinness is ice-cold before adding it to the mixture. When everything is cold, mix your meat and spices thoroughly. Add the Guinness 1/4 cup at a time and mix it in thoroughly. Lastly, mix in the breadcrumbs. Place your sausage in the fridge until you're ready to cook.

When you're ready to cook, heat a large (preferably cast-iron) skillet on medium-high heat and add a thin layer of olive oil. Add in your sausage. Once the underside is brown, flip it, and let it continue to brown. Add a bit more olive oil. Once the second side is browned, use a spatula to break it up into loose sausage. When fully cooked, remove the sausage and set it aside in a large bowl.

Add your chopped onion to a skillet with a bit of olive oil. Once slightly seared, turn the heat to medium-low and continue to brown and caramelize it. Once it's mostly soft and slightly caramelized, add the finely minced garlic. Stir and cook for 1-2 minutes or until garlic is fragrant. Deglaze the pan with a bit of Guinness beer.

Add the sausage back to the skillet and mix everything thoroughly. Add 1 cup of Guinness and 3 cups of chicken stock. Turn the heat to low and allow it to barely simmer for 2 hours. Add more beer and chicken stock if necessary to keep the contents covered with liquids.

After 2 hours, bring a medium saucepan to a boil and slice five potatoes approximately 1/4 inch thick. Once the water is boiling, add sliced potatoes. Boil for 5-6 minutes or until the slices are just a bit flexible. Err on the side of undercooking. You don't want them falling apart. Drain them in a colander and season. I used Bearded Butcher Blend Original, which is always my go-to seasoning for potatoes.

After the stew has simmered for a couple of hours, make a roux to thicken the stew. Mix 1/4 cup flour and 2 tablespoons of cooking oil in a small saucepan. Heat on medium and stir often, careful not to let it burn. The roux will continue to brown. You want it to be the color of wet sand. Once it is, remove it from the heat, add a dash of browning seasoning, and mix it into the simmering stew. Stand back, as the mixture will get hot and bubbly. Stir it in to thicken the stew.

Once the potato slices are seasoned and the stew has thickened, turn on your oven broiler. Cover the stew with potato slices and slide the skillet under the broiler. Broil until potato slices have golden spots (could take 10 minutes or more). Do not let the potatoes burn; check your oven frequently. Once they're slightly golden, shred your Irish cheddar overtop. Broil it again until the cheese is brown. Remove the pan from the oven, and you're ready to serve. Be careful, as it'll be hot. Feel welcome to garnish with fresh minced chives and rough-chopped Italian parsley. Pair it with freshly baked soda bread!
Notes
Enjoy! Reach out to me on Instagram (@WildGameJack) with any questions or comments.
Keyword
upland game birds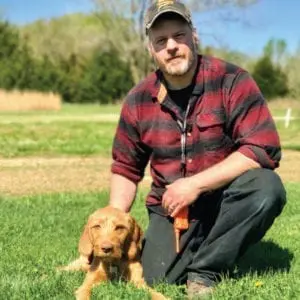 Jack Hennessy
Jack Hennessy grew up in the South Suburbs of Chicago and didn't start hunting until he attended graduate school in Spokane, Washington, at the age of 26. Hennessy began work in professional kitchens in high school but didn't start writing wild game recipes until he joined the Spokesman-Review in 2014. Since then, his recipes have appeared with Petersen's Hunting, Backcountry Journal, Gun Dog Magazine, among many others. He now lives with his wife, daughter, and Wirehaired Vizsla, Dudley, in Wichita, Kansas.