Home » Small Game Cooking » Make Upland Bird Meat Sticks for an Easy, Wild Snack
Make Upland Bird Meat Sticks for an Easy, Wild Snack
Photo by Jack Hennessy
Preserve your upland bird meat into these delicious, easy-to-carry snack strips or sticks
This recipe is perfect for whatever birds are currently in your freezer, regardless of the species or their condition. Did you put a few too many pellets into the last bird of the season? No problem, it'll be perfect for this recipe. Believe it or not, this even includes your training pigeons. Aside from the versatility of this recipe, the next best thing is that you can bring the kids in on the fun. My 4-year-old daughter—while a few years shy of being able to join us afield—loves shouldering our jerky gun and making snack sticks.
For this particular recipe, I used chukar mixed with pork shoulder, with all meat being ground fresh. You can use any upland bird (or waterfowl, for that matter), including your darker-meat prairie chickens and sharp-tailed grouse. I recommend using 30% pork shoulder for purposes of adding fat to the blend. Should you use 100% bird (no pork shoulder), your snack sticks may come out tasting a little dry.
The process for this recipe is incredibly simple but will require a jerky gun, a meat grinder, and either a dehydrator, smoker, or pellet grill. It is possible to make these in your oven if your oven will go as a low as 160F (or perhaps 180F with shorter cooking time), but you'll still want to use stainless-steel mesh trays (also recommended for smokers and pellet grill) while also leaving your oven door slightly ajar while dehydrating.
If you're not a fan of nitrites in the form of curing salts, you can use celery juice powder in the same amounts for naturally-occurring nitrites and nitrates. However, according to USDA, meat cured with celery juice powder cannot technically be called "cured" since the level of nitrites and nitrates in celery juice powder varies. Nevertheless, if you're concerned about synthetic nitrites and still want that cured flavor, try using celery juice powder.
Make Upland Bird Meat Sticks for an Easy, Wild Snack
Jack Hennessy
Turn a pound of left over upland game bird meat in the freezer for these mouth watering snack sticks.
Ingredients
11

oz

upland bird,

ground

5

oz

pork shoulder,

ground

¼

tsp

insta cure #1

1

tsp

brown sugar

½

tsp

ground ginger

½

tsp

paprika

¼

tsp

ground white pepper

¼

tsp

garlic powder

¼

tsp

ground coriander

½

tsp

kosher salt
Instructions
Freeze thawed pork shoulder and upland bird meat for one hour prior to grinding.

Grind the pork shoulder and upland game together and set back in freezer while you mix all spices together, including insta cure.

Once the spices and insta cure are thoroughly mixed, combine the ground meat and spices in a meat mixer or a large mixing bowl. If using a large mixing bowl, it helps to wear gloves to reduce the amount of heat transfer from your hands to the meat–mushy meat is not ideal here.

Cover meat and let sit in the fridge to cure overnight (12-18 hours is ideal).

When ready to dehydrate, load the jerky gun by rolling meat into very thin, small football shapes and sliding them down the tube of the jerky gun.

Put cap on the jerky gun and "shoot" meat onto mesh trays. Pinch off meat upon reaching the edge of the tray. Reload jerky gun as necessary.

Once all the meat is used and is sitting as strips or sticks on mesh trays, put the mesh trays in the dehydrator (or smoker) and dehydrate (or smoke) at 160F for 4 to 4 1/2 hours, depending on desired texture.

When 10 minutes remain for dehydrator (or smoker), fill a baking dish or tub with ice and water, large enough to fit all snack strips.

Once the meat has finished dehydrating, remove the strips from trays and toss in the ice-water bath for a one-minute shock to help settle the fat and shrink the outer casing that formed.

Seal any snack sticks that you aren't going to eat immediately. If sealed airtight and stored in a cool, dark, dry place, these snack sticks will stay good for upwards of 2 months. If refrigerated, they'll last for several months. If frozen, they'll stay fresh for 2-3 years. Once the airtight seal is broken, or if stored in a non-airtight bag, the jerky will only last 1 to 2 weeks. If jerky ever smells funny, trust your nose and discard.
Nutrition
Keyword
Jerky, upland game birds
Enjoy! Reach out to me on Instagram (@WildGameJack) with any questions or comments and be sure to check out my other wild game recipes and cooking instructions here.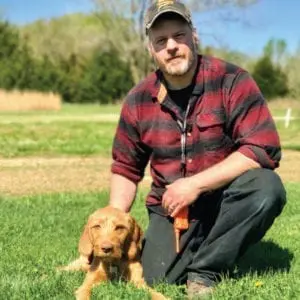 Jack Hennessy
Jack Hennessy grew up in the South Suburbs of Chicago and didn't start hunting until he attended graduate school in Spokane, Washington, at the age of 26. Hennessy began work in professional kitchens in high school but didn't start writing wild game recipes until he joined the Spokesman-Review in 2014. Since then, his recipes have appeared with Petersen's Hunting, Backcountry Journal, Gun Dog Magazine, among many others. He now lives with his wife, daughter, and Wirehaired Vizsla, Dudley, in Wichita, Kansas.