Grilling perfect quail is simple and straightforward. The process comes down to three factors: spatchcocking, spices, and searing.
Spatchcocking birds is the process of cutting out the spine of a bird and opening it up like a book for a flatter presentation. It results in a more-even cook in some scenarios, including grilling. This effect is multiplied when it comes to quail meat because their smaller size allows them to cook more evenly than larger birds.
When it comes to spices, salt adds flavor, but also helps retain moisture while cooking. The addition of just a little bit of brown sugar helps facilitate the Maillard reaction.
Lastly, for an adequate sear, you want dry birds. Soggy skin leads to a soft exterior when grilling. Pat your birds dry after they thaw and allow them to sit in the fridge overnight. The cool, open air environment in your fridge will dry them out further.
If you can't cover your grill, finish off these birds in a 500-degree oven. Allow them to rest to distribute their juices evenly. A blush of pink should show when you bite into these birds—a color similar to a nice rosé (perhaps a wine worth pairing with these birds).
Eating quail is a very hands-on experience. Juices will drip from your chin while you nibble off every last bit of that delicious upland meat. A summer salad with a homemade dressing is the perfect home for these loose juices. Alternatively, pick the meat off the bone and add to your salad! How you choose to eat these birds and select foods to pair them with is entirely up to you. The steps below will help make sure they come off the grill perfectly every time.
Perfect Grilled Quail with Fresh Salad
Grilling perfect quail is simple and straightforward. The process comes down to three factors: spatchcocking, spices, and searing.
Ingredients
For the Quail
4

whole quail

plucked and spatchcocked

Kosher salt

Freshly cracked black pepper

Brown sugar

Cooking oil spray
For Salad Dressing
2

tbsp

rice vinegar

1

tbsp

red wine vinegar

1

tbsp

Dijon mustard

1

tbsp

honey

1

tsp

freshly minced garlic

¼

tsp

freshly minced thyme

¼

tsp

freshly minced rosemary

½

cup

olive oil

Kosher salt

Freshly cracked black pepper
For the Salad
Spring mix or other leafy combo

Feta cheese

Sliced red onion

Roasted sunflower seeds

Diced fresh mango
Instructions
Spatchcock the quail and pat dry. Dust with salt, black pepper, and a bit of brown sugar. Place in the fridge overnight to absorb spices and dry the quail out further.

An hour prior to grilling the quail, pull the quail from the fridge and allow it to sit out at room temperature.

Heat your grill or skillet to 500 degrees Fahrenheit. Spray the quail with cooking oil and place it skin side down. Place a grill weight overtop of the quail. Grill for two minutes, then turn the quail approximately 90 degrees. Grill for two more minutes, then flip. The bone cavity side is in contact with the grill or skillet at this point. Cover your grill or add your skillet to a preheated 500-degree oven. Cook for another four minutes.

Pull the quail and allow it to rest for five minutes before serving.

Make the salad dressing. Mix all the ingredients except the olive oil. Once all ingredients are thoroughly mixed, slowly add the olive oil and continue mixing.

Assemble your salad. Add the dressing on the top or on the side. Serve your grilled quail alongside your fresh summer salad. Enjoy!
Notes
Reach out to me on Instagram (@WildGameJack) with any questions or comments.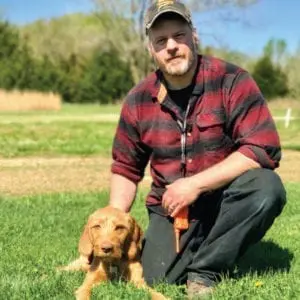 Jack Hennessy
Jack Hennessy grew up in the South Suburbs of Chicago and didn't start hunting until he attended graduate school in Spokane, Washington, at the age of 26. Hennessy began work in professional kitchens in high school but didn't start writing wild game recipes until he joined the Spokesman-Review in 2014. Since then, his recipes have appeared with Petersen's Hunting, Backcountry Journal, Gun Dog Magazine, among many others. He now lives with his wife, daughter, and Wirehaired Vizsla, Dudley, in Wichita, Kansas.