Photo by Jack Hennessy
This fall treat is no trick when it comes to preserving wild bird meat and enjoying it while on the go.
In terms of the ratio between prep time and pure enjoyment once you take a bite, you really can't top jerky of any kind. Jerky is super simple to make when using a food dehydrator: prepare the marinade, cut the meat, marinate, and then dehydrate. I break it down into the specifics below, but I think that a lot of people are mystified by tasty jerky. The truth is that anyone can make awesome jerky with their upland birds, giving you a great way to preserve your bird meat into a delicious and portable snack on the go.
I used pheasant for this recipe, but you can use smaller birds such as chukar, grouse, or perhaps even quail if you're feeling ambitious. It's just a matter of cutting the meat to spec, knowing that it will shrink in the dehydrator. The basic idea is to aim for pieces that are an inch wide and 1/4- to 1/2-inch thick. I recommend cutting the breast meat lengthwise, from top to bottom, instead of cutting across the breast. Yes, I know that is cutting with the grain, but that won't be an issue if you work to keep the pieces about an inch wide.
For most of the jerky that I make, I do opt to employ nitrites in the form of curing salts to adequately cure the meat and thus avoid harmful bacteria growth. Some folks choose to use celery powder to keep it organic (and would use the same teaspoon per two cups of liquid per pound of meat). However, technically speaking, celery powder isn't actually curing the meat, at least to my understanding. And yes, a high intake of processed meats containing nitrites can increase your risk for cancer in the digestive tract (the key word here being "high"). So don't chow down daily on big heaps of jerky and bacon—that's my advice.
For this recipe, I used a MEAT! Your Maker dehydrator and do so for most of the jerky that I make. An alternative is to use a smoker, but my smoker requires me to manually control the vents and the overall temperature, making it a more labor-intensive process. With a dehydrator, I can just set it and forget it until it beeps. Super simple.
Apple Cider Pheasant Jerky
Jack Hennessy
Turn those pheasant into an on the go treat for the field with this jerky recipe.
Ingredients
16

oz

pheasant breasts,

sliced

2

cup

apple cider

1

tsp

insta cure #1

1

tsp

ground ginger

½

tsp

garlic powder

½

tsp

ground coriander

1

tbsp

brown sugar

1

tsp

ground black pepper

1

tsp

kosher salt
Instructions
Combine all marinade ingredients (except the pheasant) in a saucepan and bring to a low simmer. Stir this mixture often until the salt, sugar, and cure have dissolved. Put the saucepan in the fridge to cool.

Remove the tenderloins from the pheasant breasts and cut the remaining breasts into 1-inch thick strips (ideally cutting lengthwise).

Once the marinade has cooled, add in the pheasant meat and allow this to marinate for 12 to 18 hours.

Do not rinse off the marinade once it is done. Add the strips to dehydrator and set it to 155 degrees Fahrenheit for 2 hours.

Lower the temperature to 140 degrees Fahrenheit, then continue dehydrating for 4 to 5 more hours, depending on desired texture.
Notes
A word about storage
While you will likely want to eat the jerky right away, it can also be safely stored in a variety of ways. When cured according to these steps and vacuum sealed to be airtight, the jerky will last one to two months if stored in a dark, dry place at room temperature. If refrigerated, it'll last several months; if frozen, perhaps even two to three years. Once the airtight seal is broken, or if it is stored in a non-airtight plastic bag, the jerky will only last about one to two weeks. Always check the condition before eating and do not eat if the smell and/or color is off.
Nutrition
Enjoy! Reach out to me on Instagram (@WildGameJack) with any questions or comments and check out the rest of my wild game recipes here.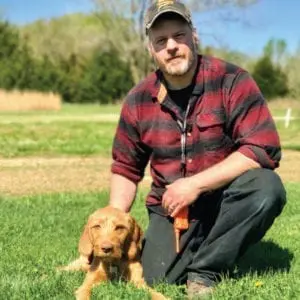 Jack Hennessy
Jack Hennessy grew up in the South Suburbs of Chicago and didn't start hunting until he attended graduate school in Spokane, Washington, at the age of 26. Hennessy began work in professional kitchens in high school but didn't start writing wild game recipes until he joined the Spokesman-Review in 2014. Since then, his recipes have appeared with Petersen's Hunting, Backcountry Journal, Gun Dog Magazine, among many others. He now lives with his wife, daughter, and Wirehaired Vizsla, Dudley, in Wichita, Kansas.