Jennifer Wapenski
Jennifer Wapenski is the Director of Operations and Managing Partner…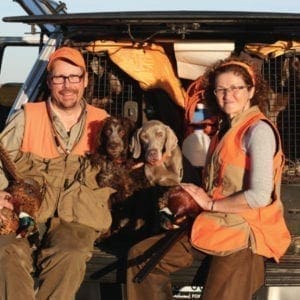 Craig Koshyk
From their home base in Winnipeg, Craig Koshyk and Lisa…
Explore an old hunting method of luring ducks to the hunter using the fox-like Toller
LISTEN on Apple Podcast | Google Play | Spotify | Stitcher
We've been talking about the development of hunting dogs and how they were shaped by the humans and cultures where they originated. We received an interesting listener question asking us to consider the inverse of this concept: would human development have been any different if we did not have dogs at our side? It's a fascinating thought experiment to consider what might have been different, which of course leads us down a few trails.
Back on the topic of hunting methods, we also addressed some listener input regarding the current status of hunting with crossbows across the United States. While their use (where legal) is primarily for big game hunting, we muse about the possibility of reenacting historic bird hunting methods…after you check your local regulations, of course!
Our guest interview this week is with a Canadian waterfowler who grew up hunting ducks in Nova Scotia. As a kid, Grant St. Germain was introduced to the Nova Scotia Duck Tolling Retriever, or Toller, through family friends who were among the early advocates for the breed.
Tolling for ducks means luring the ducks to shore and within shotgun range. This is an ideal technique on a calm day when ducks are rafted up offshore with no reason to move around or seek protection from the weather. The Toller is enticed to play and frolic along the shoreline, which triggers the ducks to move in for a closer look. As the ducks approach the shore, the concealed hunter waits for them to come within range and then jumps up for a couple of shots.
While the exact reasons for why the ducks are attracted to the dog are up for debate, Grant supposes that it's related to their nest protection instinct. Since Tollers are bred to look and behave like foxes, it's thought that ground-nesting ducks instinctively come to see the "fox" along the shore to see if it is raiding their nests. This theory is supported by the fact that tree-nesting ducks can't be effectively tolled.
Utilizing the tolling technique is quite simple as long as you have the right kind of location where the rafted ducks can see the shoreline, yet you can remain hidden and close enough to the water. It's typically an opportunity-based hunt when the situation presents itself, rather than something that can be planned in advanced.
There's no special training required for the dog—you simply throw a stick or ball to get the Toller running back and forth along the shoreline in a playful manner. Tollers are passionate about retrieving, so this comes very naturally for them and they won't tire of the game. The only trick is to make sure that the dog ignores the approaching ducks—one look in the wrong direction could spook the ducks and end the hunt.
Tolling is rarely practiced today, but there's no reason the technique should be lost to history! If you give it a try with your dog, please let us know how it goes.
As always, we thank you for listening and invite you to submit feedback or questions to us at HDC@northwoodscollective.com. We would love to feature your questions in an upcoming episode! Record a voice memo and email it to us to be featured on the show and to have your question answered.
Checkout the next Episode: here
Share | Comment, review and discuss this episode of the podcast in our Project Upland Community Facebook group.
Enjoy the show and don't forget to rate, review, subscribe, and share this podcast. Miss the last episode? Check it out here!
Hunting Dog Confidential is presented by Eukanuba Premium Performance Dog Food and supported by Dakota 283, Syren USA, and SportDog Brand.
Jennifer Wapenski
Jennifer Wapenski is the Director of Operations and Managing Partner at Project Upland Media Group. She has a lifelong passion for the outdoors, dogs, and wildlife; as an adult, she discovered that upland bird and waterfowl hunting were natural extensions of these interests. What started as initial curiosity soon escalated into a life-changing pursuit of conservation, advocacy, and education. Jennifer serves in a variety of roles such as the Breed Warden for the Deutsch Langhaar—Gruppe Nordamerika breed club, on the board of the Minority Outdoor Alliance, and on an advisory committee for the Washington Department of Fish and Wildlife.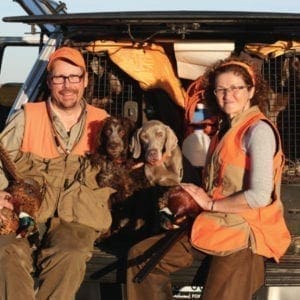 Craig Koshyk
From their home base in Winnipeg, Craig Koshyk and Lisa Trottier travel all over hunting everything from snipe, woodcock to grouse, geese and pheasants. In the 1990s they began a quest to research, photograph, and hunt over all of the pointing breeds from continental Europe and published Pointing Dogs, Volume One: The Continentals. The follow-up to the first volume, Pointing Dogs, Volume Two, the British and Irish Breeds, is slated for release in 2020.