Home » Hunting Dogs » Hunting Dog DNA Tests – Protecting Purebred Lineage
Hunting Dog DNA Tests – Protecting Purebred Lineage
Photo by Wil Sensing
Investigating the importance of DNA testing hunting dogs and its application to stud books
The topic of "purebred" dogs makes me feel like I am in a Harry Potter book talking about pure-blood ancestry. The glaring difference is that the version in Harry Potter is a negative plot point, whereas the idea of purebred bird dogs is significant to the future of preserving breeds. Full disclaimer: this is not to say that adopting a mixed-breed dog is not an honorable act. What this discussion is about is the moral and ethical obligation to continue the work of hundreds of years of breeding hunting dogs for very specific purposes. More accurately: continuing that legacy in an ever-evolving manner and protecting that heritage.
It goes without saying that technology will and has inherently affected just about everything in our lives. Stud books turned to digital and searchable archives, e-collar technology brings us into the space age, and now DNA blood testing has become affordable and accurate.
How DNA testing dogs works
In all, it is the same technology we use on humans. But it is important to point out that DNA testing a dog is not like the DNA programs we see advertised to discover where your family came from — which has come under increasing scrutiny over recent years for the vast discrepancies between providers. The idea here is building a scientific database rather than just a written stud book.
Let me explain. This DNA testing can identify the parents of a dog. So if we take two purebred bird dogs (that have DNA on file) and they have puppies, we can then test them by looking at the scientific data we stored to identify those two dogs as the parents. In short, we are beginning to build a new, more accurate database that can help future generations make sure the purity of breeds is maintained. And that information is now scientifically confirmed for accuracy.
As much as I would like my griffon to be tested by some outstanding DNA technology that leads us on a journey through the European countryside to his roots of Dutch, French, or German origins, that is not going to happen. However, someone hundreds of years from now — if we continue to establish databases — will be able to trace these dogs back with amazing historical accuracy to breeders, kennels, and regions of the world.
Why is blood testing important?
Breed standards, organizations like the American Kennel Club, American Field, and the North American Versatile Hunting Dog Association all exist to accomplish a very specific goal: the advancement of hunting dog breeds and the protection of said breeds. To the casual eye many of these bird dogs are easy to distinguish, and to the trained eye more minor standards easy to point out. But many breeds can become the subject of debate, arguments, and culture that seems like something from the movie Best in Show. Take the vast difference in standards between the Deutsch-Drahthaar and the German wirehaired pointer, for example.
That passion is important. There is a whole group of people and culture obsessed with standing guard over this important task. Whether it's hip testing dogs, declining to breed dogs with health issues, and committing to breeding the highest testing dogs. Although there is DNA testing that does identify genetic defects in health, the idea of this DNA registry is used to only identify parents of the dog in question are.
Believe it or not, the history and future of hunting dogs has almost fallen apart in the past. On my recent reading of Craig Koshyk's Pointing Dogs Volume One – The Continentals, it is a common thread of the impact and destruction of World War 2. Many purebred hunting dog breeds were nearly lost forever, and some are believed to have disappeared. The effects rippled all the way back to the U.S. where breeds like the Wirehaired Pointing Griffon were crossed with a lesser known Czech breed, the cesky fousek. Look at a couple pictures side by side and at least I am left scratching my head at the differences in physical appearance.
That is a reason why more than ever we have to protect the purity of our hunting dog breeds. We have a moral obligation to the history of these breeds to maintain their future and its practical applications to our hunting worlds.
There is no reason to dive deep into the dangers and controversies of crossbreeding. Just google labradoodles or dive a bit into the debate on silver labs and you will need to come up for oxygen in a few days. Be careful not to ask the wrong person as you may find hostility in response to your curiosity. Responsible pet ownership should not result in mixed breed dogs, but the world is far from perfect and all we can do is put our stock in organized systems that seek to preserve the hunting dog legacies in a responsible manner.
DNA blood testing programs and requirements
Recent advancements in DNA testing allow this task to become a bit easier. In 2019, NAVHDA official began requiring DNA testing for breeders and had already required it for NAVHDA Invitational. You can order a DNA test on their website for the price of $55. This is right alongside the importance of hip certification which, as this whole topic entails, affects the future of a dog's breed in a positive way.
The AKC has a voluntary program for DNA testing, although their "Frequently Used Sires" requires a mandatory DNA testing because of its impact level on stud books — as well as situations where parentage cannot be proven. This holds the same for the United Kennel Club.
The Field Dog Stud Book which is operated by the American Field is a rather unique situation. As no other organization recognized the Llewellin setter as a breed separate from the English setter, they not only recognize and seek to preserve the lineage but also require DNA testing of all Llewellins registered in the book.
When purebreed controversies surface
In 2004 The American Field was put to test when the question of that year's National Championship was called under question. The whole situation came down to whether or not the lineage of the "Miller's On Line" was accurate. DNA testing was called for, and as a result it was discovered the listed dam was incorrect. Although the successfully identified dam was still part of the purebred line, it was against the rules to inaccurately represent lineage and therefore the dog being struck from the record was disqualified for not being properly registered. Now all Champion and Runner Up Champions are required to have DNA testing. This is also required, like other organizations, for breeding litters.
This is a roundabout way of saying that DNA testing bird dogs is an amazing and important technological advancement for the word of hunting dogs. It exists to keep breeders honest, the historical record accurate, and the future of these hunting dog breeds intact. This allows for greater commitment to the underlying goal of advancing and protecting bird dog breeds from disappearing.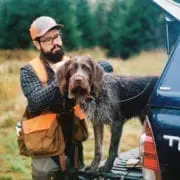 A.J. DeRosa
A.J. DeRosa founded Project Upland in 2014 as an excuse to go hunting more often (and it worked). A New England native, he grew up hunting and has spent over 30 years in pursuit of big and small game species across three continents. He started collecting guns on his 18th birthday and eventually found his passion for side-by-side shotguns, inspiring him to travel the world to meet the people and places from which they come. Looking to turn his passion into inspiration for others, AJ was first published in 2004 and went on to write his first book The Urban Deer Complex in 2014. He soon discovered a love for filmmaking, particularly the challenge of capturing ruffed grouse with a camera, which led to the award-winning Project Upland film series. AJ's love for all things wild has caused him to advocate on the federal and state levels to promote and expand conservation policy, habitat funding, and upland game bird awareness. He currently serves as the Strafford County New Hampshire Fish & Game Commissioner in order to give back to his community and to further the mission of the agency. When those hunting excuses are in play, you can find him wandering behind his Wirehaired Pointing Griffon in the mountains of New England and anywhere else the birds take them.