Home » Hunting Dogs » Dr. Joe Spoo, aka the GunDogDoc Series – a Specialist in Sporting Dog Medicine
Dr. Joe Spoo, aka the GunDogDoc Series – a Specialist in Sporting Dog Medicine
Introducing a new series on sporting dog care, first aid and health with Veterinarian Specialist Dr. Joe Spoo of the American College of Veterinary Sports Medicine and Rehabilitation.
The crowd gathered around the booth on the hot summer day in Minnesota. Veterinarian Joe Spoo prepared his slide presentation as the seats filled. Dr. Spoo is not your average vet; he is a member of the American College of Veterinary Sports Medicine and Rehabilitation (ACVSMR), founded in 1996. The organization is essentially a group of doctors dedicated to sporting dogs (among other animals).
Presented by Eukanuba Sporting Dog
Spoo has dedicated his life to hunting dogs since his fascination as a child. "Everyone wanted to be a firefighter or a police office. I always wanted to work with hunting dogs," Spoo said with evident conviction. "I remember watching my dad's friends' hunting dogs work when I was a kid. I was enamored. I knew I wanted to be a veterinarian. My parents still have a newspaper clipping of me saying that in elementary school."
Fast forward many years later and Spoo has owned hunting dogs ranging from retrievers and spaniels to setters. He spends a vast amount of the bird hunting and waterfowl hunting season, well, hunting. He even helped found the Sioux Falls chapter of NAVHDA. This is one of the things that drew me towards Dr. Spoo. After a few years of vet visits and unusual glances at a hard running dog with bald spots on his face and chest, I wanted to talk to someone with real hunting experience to better understand how to take the best care of my Wirehaired Pointing Griffon.
Through a mutual relationship we met, and through work with Eukanuba Sporting Dog we began interacting regularly. Spoo was no stranger to the idea of writing and producing content focusing on hunting dogs. He laughed as he said, "I bought the website domain gundogdoc.com before I even graduated med school." He remembered reading a regular column in Gun Dog Magazine called "Ask the Vet" with Dr. Tom Holcomb. Spoo would ironically be mentored during vet school  by Holcomb, only fueling his passion to share his sporting dog medicine knowledge with others.
The groundwork for Spoo helping those of us in the hunting dog community understand things in our culture relating to the safety of our dogs is a longer story than the founding of Project Upland. But you put Jake Terry of Endless Migration, Dr. Spoo, and myself in a room long enough and ideas began to grow to levels we had to reel in under the relentless driving force of too much ambition. And so this begins our adventure to expanding the knowledge of proper sporting dog care, first aid, health, and more–all this with someone I believe has such a unique ability to help us keep our four-legged friends safe.
Spoo's unique contribution is that he is specialized in sporting dog medicine, and practices with his wife who is also a specialist in the vet field. Their practice in Sioux Falls, South Dakota, makes them the only full-time practicing specialists in the state. Since 2001 he has consulted on the topic for some of the largest brands in the country including most major sporting dog food manufacturers.
But past all of this, Spoo is himself a passionate bird and waterfowl hunter. Over the course of long calls we debate the versatility of griffons (I served as the devil's advocate), the South Dakota pheasant hunting season, the woodcock migration, and many other things that are common conversation for those of us who simply love hunting dogs.
As I sat and listened to his presentation in Minnesota, I found myself fascinated by his slides. Sure, I had talked to many on topics of field care of hunting dogs, but my eyes often glazed over. At the end, I asked two questions: "Can I get a copy of those slides, and how do we share this with the hunting dog community?"
This is how we share it. From here forward we will began to expand articles, podcasts and videos to help us take better care of the athletes we call our kids (aka hunting dogs). As in all things, we do we hope the community reaches out, asks questions, inspires new pieces of content and helps fill the void for proper care and maintenance of our hunting dogs. Here begins the GunDogDoc series on Project Upland and Endless Migration.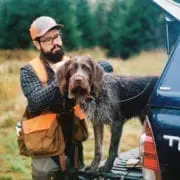 A.J. DeRosa
A.J. DeRosa founded Project Upland in 2014 as an excuse to go hunting more often (and it worked). A New England native, he grew up hunting and has spent over 30 years in pursuit of big and small game species across three continents. He started collecting guns on his 18th birthday and eventually found his passion for side-by-side shotguns, inspiring him to travel the world to meet the people and places from which they come. Looking to turn his passion into inspiration for others, AJ was first published in 2004 and went on to write his first book The Urban Deer Complex in 2014. He soon discovered a love for filmmaking, particularly the challenge of capturing ruffed grouse with a camera, which led to the award-winning Project Upland film series. AJ's love for all things wild has caused him to advocate on the federal and state levels to promote and expand conservation policy, habitat funding, and upland game bird awareness. He currently serves as the Strafford County New Hampshire Fish & Game Commissioner in order to give back to his community and to further the mission of the agency. When those hunting excuses are in play, you can find him wandering behind his Wirehaired Pointing Griffon in the mountains of New England and anywhere else the birds take them.