Home » Hunting Culture » The Ethics and Issues of Hotspotting in Hunting
The Ethics and Issues of Hotspotting in Hunting
Photo by A.J. DeRosa
What are the lines that define hotspotting public lands in the bird hunting community?
It's pretty hard to go a day on social media without either seeing someone accuse someone of hotspotting (sometimes referred to as "spot burning") or hear someone complaining about it. This is when an area is identified as a good hunting spot in a public forum such as social media. It can happen on a scale as large as an entire state or as precise as GPS coordinates.
This is a highly controversial subject with strong arguments on both sides of the issue. On one hand, great hunting areas are highly guarded secrets because we don't want to see our favorite spots overrun by other hunters. It takes a lot of work to scout for and find birds; it does not take a lot of work to go wherever your favorite Instagram influencer says to go. On the other hand, one of the single biggest hurdles for new hunters to overcome is finding places to go hunting. New hunters must be equipped with some useful knowledge to help them find success if we want to see them return to hunting for season after season.
Project Upland is no stranger to walking this fine line between adequately equipping new hunters and giving away the farm, so to speak. For example, the article Scaled Quail Hunting the Cimarron National Grassland generated a fair share of emails, messages, and comments that we were hotspotting and people were not happy. But seriously—is scaled quail hunting so easy that citing a National Grassland where they live can mean the end of all the birds? Not from what I have heard. We must stop and carefully weigh the issues and ethics that surround this question and consider where it goes to far.
The Decline of Hunting
Upland hunting, like all hunting, has faced a drastic decline since the early 1980s. Poor public perception of our pastime fueled by a combination of factors including the trophy craze, people in the industry asleep at the wheel, and a lack of hunting accessibility and knowledge being passed on have had devastating results. More than ever, this should motivate us to mentor people—and that ultimately means sharing the places we hunt.
Mentoring is a huge part of growing the ranks of bird hunters. There certainly has been a measurable influx of interest in wingshooting over the past few years. Converting this interest into actual participation will require lowering some of the barriers to entry. The reality is that there are some double-edged swords when it comes to mentoring in bird hunting.
For instance, as we proved in our most recent study with Hunt Rising, access to bird dogs is a major means by which people get hooked on bird hunting. The results showed that 75 percent of people who follow Project Upland say that "dogs played a critical role in becoming a hunter." Twenty-eight percent stated, "I got a bird dog then became a bird hunter." That astonishing number increased to 34 percent when only looking at ages 18 to 44. But getting a bird dog is a huge leap. It's expensive, time consuming, and requires a commitment of 24 hours a day, 365 days a year, for a decade or more. Trail cameras are lower maintenance.
READ: Can Bird Dogs Help Save the Future of Hunting?
The second challenge in sharing hunting spots is that upland game habitat tends to be very limited in comparison to more popular game animals, particularly for birds like the bobwhite quail or the ruffed grouse. Unlike whitetail deer, most upland birds have evolved in very specific habitat, which happens to be declining at alarming rates. That often translates to people feeling like they are competing for shrinking spaces and are therefore less likely to willingly share their sacred covers through mentoring. The reality is, if our generation does not successfully pass this on, the world of upland hunting will die with us.
Why People Get Angry about Hotspotting
Many of us, myself included, feel as if our hunting access is limited. The area in which you live can really swing that feeling to different extremes. If you live in an area with poor bird habitat, then the few good spots you have become crown jewels. If you live in an area with great habitat and tons of public land, then bird hunting tends to be more popular. . . which means more hunters in every spot.
We work hard for our covers. As a ruffed grouse hunter, I know that a lot of leg work goes into finding every good spot. Understanding habitat is something that can take years to develop. It is something that is even unique to where we live. Finding ruffed grouse in the upper Midwest is far different from finding ruffed grouse in my native New England. Sure, some of the rules are the same, but different plant species, logging practices, and terrain have a big impact.
Imagine that I have spent years hunting my area, watched timber harvests over a decade ago, and made mental notes to wait for them to come into their prime. Then I wake up one morning and someone drops the GPS coordinates of my favorite cover on the Project Upland Community page. Not cool.
When Hotspotting Truly becomes Hotspotting
It would be hard to debate that publicly sharing GPS coordinates is not over the line. I highly recommend using the new OnX Hunt feature that shares waypoints only with those whom you trust. There is a reason that OnX Hunt designed the feature so that you could revoke those shared spots.
But is mentioning a town hotspotting? If so, someone better tell Park Falls, Wisconsin to take the "Ruffed Grouse Capital of the World" sign down. Maybe South Dakota should stop claiming to be the pheasant capital of the United States. And the audacity of those bars with signs that say, "Welcome Hunters!"
There is an economy that exists around hunting, whether any of us like it or not. I wonder sometimes when I see messages of people demanding that mentions of public lands in comments be removed from posts. Where does that level of entitlement come from? No reason to quote the definition of "public" here; we are all, in fact, public land owners.
Stories that Make Hotspotting Less Scary
I once said out loud that I thought Maine was the sleeper state for ruffed grouse hunting. I was told to keep that to myself. Now I've said it in an article which, by all accounts, could make me guilty of hotspotting the state of Maine. Maine tourism could benefit from that, but people who live in Maine (without businesses) and hunt ruffed grouse may not take kindly to those words.
But Maine is a great example. I met some folks from another part of the country once who were grouse hunters. We talked about New England and I suggested at one point to "get up into the northern reaches of New Hampshire and Maine and hunting can be just as good and sometimes better than the upper Midwest; you just need to get used to the terrain." They both went on to tell me how they went to Maine, but they never left the logging roads and thought the covers looked too daunting, so they stuck to road birds.
Similarly, last year I was at a Ruffed Grouse Society chapter meeting and I overheard a gentleman talking about how far he needed to drive to get into grouse cover. There was a spot I knew of not 15 minutes from where he lived that had grouse in it, so I chimed in and told him where to go. One of my fellow grouse hunting buddies looked horrified at the interaction and afterwards asked me, "Why would you do that?"
There is a similar pattern here. Plenty of hunters are going to stick to main roads or, in some cases, tote roads. Maybe they're not willing to climb mountains to not find chukar, or walk endless miles of sagebrush to not see a sharptail. That's just fine, and to each his own. For some diehards, they are going to grid a cover like they are playing Battleship on a high-stakes bet. That behavior represents a minority and is something that, in some cases, takes people time to get comfortable with and understand a spot. It takes knowledge, which takes time, which is okay. It's great to work towards something and learn. Quite frankly, if you are that willing and that aggressive in your approach, you earned the cover and the birds that you take out of it. Mentioning towns is not going to affect that level of drive and prevent people from finding that "hot spot."
My point is that sharing locations is not a sure bet that a cover will get over-hunted. Knowing general areas where birds live is a very small piece to what can be a complicated puzzle that takes a lot of boot leather to figure out. My very own covers can daunt me on some days and reward me on others. Weather, time of year, food sources, water. . . all play into the moving target that is the ability to actually take advantage of a hunting location.
The Cost of Sharing Hunting Spots
My mother once told me that if you loan a friend money and expect to get it back, that relationship is doomed. That is also true about sharing hunting locations. That is the cost of mentoring. On a recent phone call, a friend from out west confessed that they'd shared a quail cover that a friend had specifically asked them not to share with another mutual acquaintance. To his relief, those folks got skunked that day for what he had deemed an ideal spot. Even GPS coordinates are not a sure bet for what awaits there.
Common Sense Advice for Sharing Information
Do not post GPS coordinates online, even if it is "your cover." I'm willing to bet it's plenty of other people's cover as well and you have no idea how many people will end up seeing that information.
If someone from out of state asks for tips, encourage them to do the leg work by informing them of the parameters you use to scout new territory, i.e. look for county, state, national or private parcels that meet criteria a, b and c… As a general rule, anything more specific than the mention of a state or large national property (i.e. county, town, etc…) should be kept to small group or one-on-one conversations. If you do not wish to share specific information, stick to education and no one should judge you for that.
If you mentor someone, go into it knowing you that will most likely catch them there at some point. Discuss with them the etiquette around sharing covers and the value in learning to find your own.
If you are a mentee, your mentor worked hard for the knowledge base he or she is sharing with you. Respect that work by finding your own covers and repaying the debt.
Sharing is caring. No, but seriously.
A Bigger Threat than Hotspotting
The real threat to losing your covers to others isn't hotspotting, it is teaching people how to properly identify habitat, understand food sources, know where water is in a cover, and how to time things during the day and throughout the year. Things change constantly and by no means can we stop those who are educated on these details from finding our honey holes. No hotspotting needed.
My favorite area of New Hampshire is full of some of the best covers I have ever hunted in. While recently using Scout-n-Hunt to identify new spots, I found out quickly that my secret spots were not really that special after all. If you have the app, you know my favorite covers; there are still plenty of birds there. On the other hand, my favorite cover from last year is like a desert this year. No birds to be had. I have chalked it up to time of year and availability of water. But hey, if I gave you the GPS coordinates, it's only fair that we put in the leg work to check the actual conditions at any given time.
I already have a new favorite cover this year and no, I will not drop you a pin.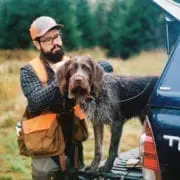 A.J. DeRosa
A.J. DeRosa founded Project Upland in 2014 as an excuse to go hunting more often (and it worked). A New England native, he grew up hunting and has spent over 35 years in pursuit of big and small game species across three continents. He has a passion for side-by-side shotguns, inspiring him to travel the world to meet the people and places from which they come. Looking to turn his passion into inspiration for others, AJ was first published in 2004 and went on to write his first book The Urban Deer Complex in 2014. He soon discovered a love for filmmaking, particularly the challenge of capturing ruffed grouse with a camera, which led to the award-winning Project Upland film series. AJ's love for all things wild has caused him to advocate on the federal and state levels to promote and expand conservation policy, habitat funding, and upland game bird awareness. He currently serves as the Strafford County New Hampshire Fish & Game Commissioner in order to give back to his community and to further the mission of the agency. When those hunting excuses are in play, you can find him wandering behind his Wirehaired Pointing Griffon in the mountains of New England and anywhere else the birds take them.