Photo by Jack Hennessy
Got squirrel? This comfort food recipe will make squirrel meat approachable for anyone hesitant to give it a try
Our family doesn't have a long list of recipes passed down from generation to generation. In fact, I don't think we have any, but one dish from my childhood that dredges up many memories is my dad's tomato bread. He made it recently during a visit here in Kansas and I realized I had forgotten the secret: to sauté the tomatoes individually in olive oil with spices prior to baking.
This recipe is not for tomato bread, but I employ the same technique when making homemade marinara, as I believe the delicate braise of tomatoes in olive oil boosts the overall flavor of the final product.
Some personal background on squirrel hunting: I grew up south of Chicago and regarded anyone who ate squirrel, including my mom's cousins in Tennessee, as very odd. Then of course there was National Lampoon's Christmas Vacation, which we watched (and still watch) every holiday season and, since Cousin Eddie ate squirrel, it really wasn't the best frame of reference.
Several years ago, I was introduced to the art and woodsmanship surrounding squirrel hunting by Dave Orrick, the outdoor editor for the St. Paul Pioneer Press at the time. Bottom line? You don't know what you're missing until you've tasted a bushytail whose sole diet was pecans and acorns.
I used fox squirrels for this recipe, as we have an abundance of them in south-central Kansas and I am fortunate to be able to hunt a pecan grove chock full of them.
A note on butchering: You can choose to cook the whole squirrel, but beware the smaller bones in the torso, especially the collarbone. You have to be very diligent when picking meat from these bones, especially if shot up with a shotgun, as smaller bones can remain and find their way into the sauce. Biting into those isn't fun and may result in dirty looks from your guests.
Another option is using only hind- and front-quarters, then eating the other parts by picking meat off with teeth, as if it were corn on the cob, versus keeping it in the sauce when serving.
Squirrel Cacciatore
Jack Hennessy
This comfort food recipe will make squirrel meat approachable for anyone hesitant to give it a try.
Prep Time
15

minutes
mins
Total Time
3

hours
hrs
15

minutes
mins
Ingredients
Main Ingrediants
2

squirrels

or enough to yield approximately 20 ounces of meat

8

oz.

baby portabella mushrooms

sliced

16

oz

spaghetti or linguine

cooked slightly al dente

Dustings of kosher salt, freshly ground black pepper, and dry oregano

Olive oil, mixed use
For the sauce
15

oz.

can crushed tomatoes

8

on-the-vine tomatoes

approximately 20-25 ounces

½

medium-large yellow onion

finely diced

1

cup

chicken stock

½

cup

red wine

¼

cup

malt vinegar

2

tbsp

freshly minced garlic

2

tsp

lemon juice

2

tbsp

freshly minced oregano

2

tbsp

freshly minced basil

½

tbsp

freshly minced thyme

1

tsp

black pepper

1

tsp

cayenne

3

tsp

kosher salt

1

tbsp

white sugar
Instructions
Heat a medium or large (preferably cast iron) skillet on medium heat. Add a thin layer of olive oil. Note that the skillet needs to be big enough to hold the sauce and the squirrels.

Dice six tomatoes (set aside two) and lightly dust with kosher salt, freshly ground black pepper, and dry oregano. Cook until slightly soft, then add to food processor but do not blend yet.

In the same skillet, after tomatoes are cooked and removed, add a little more olive oil, then the finely diced onion. Lightly salt and pepper and sauté until brown, then add to food processor.

Once again, in same skillet, add a little bit of olive oil, followed by the squirrels. Lightly season with salt and pepper. Brown on all sides, then set aside.

Add remaining sauce ingredients (aside from two on-the-vine tomatoes) to food processor and blend thoroughly. Add sauce to the skillet and set to simmer.

Allow sauce to simmer for 10 minutes before adding squirrels to the sauce.

Braise the squirrels in the sauce. After 2 to 2-1/2 hours, the meat on squirrels will start to tenderize. At this point, you can remove the squirrels and carefully pick the meat from the bones. Add the meat back into the sauce.

Dice the final two tomatoes and add to the sauce, along with the rinsed and sliced baby portabella mushrooms. Allow all of this to simmer for 30 minutes longer.

In a separate large pot, boil pasta for 8-9 minutes until slightly al dente, then drain.

Salt the sauce to taste and, when satisfied, serve over pasta. Garnish with fresh basil, cut chiffonade, if you wish.
Notes
Enjoy! Reach out to me on Instagram (@WildGameJack) with any questions or comments and find my other wild game recipes here.
Nutrition
Calories:
906
kcal
Carbohydrates:
117
g
Protein:
49
g
Fat:
25
g
Saturated Fat:
7
g
Polyunsaturated Fat:
6
g
Monounsaturated Fat:
10
g
Trans Fat:
1
g
Cholesterol:
108
mg
Sodium:
2098
mg
Potassium:
1833
mg
Fiber:
11
g
Sugar:
21
g
Vitamin A:
2827
IU
Vitamin C:
52
mg
Calcium:
173
mg
Iron:
7
mg
Keyword
Cacciatore, Squirrel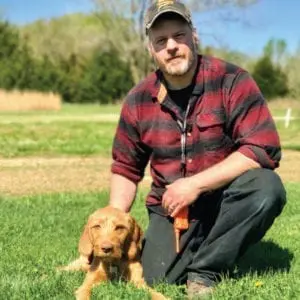 Jack Hennessy
Jack Hennessy grew up in the South Suburbs of Chicago and didn't start hunting until he attended graduate school in Spokane, Washington, at the age of 26. Hennessy began work in professional kitchens in high school but didn't start writing wild game recipes until he joined the Spokesman-Review in 2014. Since then, his recipes have appeared with Petersen's Hunting, Backcountry Journal, Gun Dog Magazine, among many others. He now lives with his wife, daughter, and Wirehaired Vizsla, Dudley, in Wichita, Kansas.