Home » Small Game Cooking » Pheasant Schnitzel with Lemon Beurre Blanc Caper Sauce
Pheasant Schnitzel with Lemon Beurre Blanc Caper Sauce
Photo by Jack Hennessy
Celebrate Oktoberfest with this wild game take on a German and Austrian staple food
The bad news: 2020 Oktoberfest in Germany is cancelled. The good news: Oktoberfest is never cancelled in your kitchen and doesn't require a plane ticket to Munich.
Wiener schnitzel is a dish you will find on every German restaurant menu (and at Oktoberfest, of course), but it actually originated just south of Germany in Austria. In that region, the dish is protected by law and must be made with veal. In our own kitchens, outside German or Austrian jurisdictions, we can make it with pheasant and eliminate the "wiener" from the name.
Traditional schnitzel is fried in butter—clarified butter, to be specific. I would argue that I can make a lot of impressive concoctions atop my stove, but clarified butter is not one of them. To make clarified butter, you melt unsalted butter—do not boil—and then skim off milk solids as they rise to the top. Eventually you are left with just butterfat that you can use for frying, but I rarely have the patience for this. So, there are two options: buy clarified butter or ghee (somewhat different but still works for this recipe), or add cooking oil (such as sunflower oil) to the pan with the butter to raise the smoking point (and thus not burn your butter). Do NOT fry this dish in browned or burnt butter, please.
This dish requires very thin meat, so you will need a meat mallet to tenderize and flatten the pheasant breasts. If you're working with a larger rooster breast, you may need to butterfly prior to pounding out the meat. The best way to tenderize is to place the breasts smooth-skin side down and cover with plastic wrap. Lightly pound from the center out, almost in an L-shaped motion, as opposed to straight down. This will stretch the skin from the middle toward the edges and will mean you're less likely to shred the meat. Start very lightly with short strokes and, again, pound from the center out.
Make certain to pair with your favorite German or German-inspired brew while both cooking AND eating!
Pheasant Schnitzel with Lemon Beurre Blanc Caper Sauce
Jack Hennessy
Celebrate Oktoberfest with this German and Austrian classic recipe with your pheasant meat.
Cook Time
30

minutes
mins
Ingredients
For the Schnitzel
4

skinless pheasant breasts,

flattened to approximately 1/4-inch thick

2

eggs,

beaten

2

cups

flour

2-3

cups

Panko bread crumbs

1

tsp

kosher salt

1

tsp

ground black pepper

2

cups

clarified butter for frying

(may need cooking oil as backup, too)
Beurre blanc
¼

cup

white wine

2

tbsp

white wine vinegar

2

tbsp

finely chopped shallots

1

tbsp

freshly minced garlic

⅓

cup

heavy cream

½

tsp

salt

½

tsp

white pepper

1

cup

unsalted butter,

cut into tablespoon-size pieces

¼

lemon,

juiced

1½

oz

non-pareil capers
Instructions
To make beurre blanc, add finely chopped shallots to medium saucepan with 1/2 tablespoon unsalted butter, then lightly salt and pepper and heat on medium-low.

Once shallots are slightly soft, add finely minced garlic and once aroma releases (1 minute or so), add wine and white-wine vinegar. Raise heat to medium and allow to simmer.

Once liquids are reduced by half, add cream, lemon juice, salt, and white pepper; and again reduce by half.

Remove saucepan from heat and whisk in unsalted butter 1 tablespoon at a time until melted. Continue until 2 sticks are added and melted. Set saucepan aside, off heat.

Tenderize pheasant breasts with meat mallet and flatten to 1/4 inch depth.

Beat two eggs in a bowl. Place flour (with salt and pepper) in another bowl. Place Panko bread crumbs in a third bowl (three-stage process prior to frying).

In a deep skillet, add a thin layer (approximately 1/4 inch) of clarified butter OR cooking oil with a couple tablespoons of butter. Heat on medium to 375-400 degrees Fahrenheit.

For each pheasant breast, dip each side in egg wash then in flour. Shake off excess flour, then coat in Panko and add to skillet (do NOT add before butter or oil/butter reaches near 400). Fry to golden crisp then flip, repeating on other side. Place on napkin-covered plate until ready to serve.

Right before serving, pour sauce through a sieve into a medium bowl. Press shallots and minced garlic against sieve and discard after all sauce has been through sieve. Add back to saucepan.

Add capers to beurre blanc. To serve, add fried pheasant breasts to plate and top with beurre blanc (now containing capers).
Nutrition
Keyword
Oktoberfest, Schnitzel
Enjoy! Reach out to me on Instagram (@WildGameJack) with any questions or comments and check out my other wild game recipes here.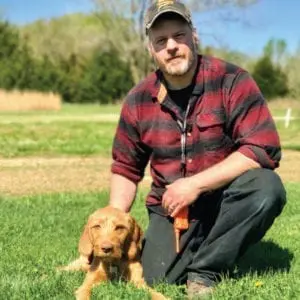 Jack Hennessy
Jack Hennessy grew up in the South Suburbs of Chicago and didn't start hunting until he attended graduate school in Spokane, Washington, at the age of 26. Hennessy began work in professional kitchens in high school but didn't start writing wild game recipes until he joined the Spokesman-Review in 2014. Since then, his recipes have appeared with Petersen's Hunting, Backcountry Journal, Gun Dog Magazine, among many others. He now lives with his wife, daughter, and Wirehaired Vizsla, Dudley, in Wichita, Kansas.