Home » Hunting Dogs » German Shorthaired Pointer – 'The Most Popular Versatile Dog in the World'
German Shorthaired Pointer – 'The Most Popular Versatile Dog in the World'
The author explores the German Shorthaired Pointer's multiple connections with hunting dogs around the world to give a comprehensive overview of the breed
EDITOR'S NOTE: Most of the information provided in this article comes from Pointing Dogs Volume 1: The Continentals written by Craig Koshyk. To buy this book, click here.
---
​​Build a Better mousetrap and the world will beat a path to your door.

— Ralph Waldo Emerson
One hundred and fifty years ago, the people of Germany struggled to create a united nation out of a patchwork of tiny kingdoms, city-states, and fiefdoms. Around the same time, german hunters also struggled to create a national breed of short-haired pointing dog. Eventually, both goals were realized.
Listen to more articles on Apple | Google | Spotify | Audible
Today, Germany is a rich and united republic and the German Shorthaired Pointer sits in triumph as the most successful continental pointing breed in the world.
The history of the German Shorthaired Pointer
Most histories of the German Shorthaired Pointer begin in the 1870s with a newly unified Germany and a growing middle class of hunters seeking an all-around hunting dog. But the seeds of breed's creation were sown centuries earlier when pointing dogs from France, Italy, and Spain made their way into the Germanic states and developed into regional varieties of Hühner-Hunde—bird dogs.
Before the turn of the 19th century, pointing dogs were never really bred in large numbers in Germany, nor was there much effort put into improving them for fieldwork. German hunters back then—typically aristocrats with the wealth and authority to hunt—were more interested in hunting big game. They mainly bred tracking dogs and running hounds to pursue deer and boar, but in the mid-1800s the situation began to change. Lightweight, affordable shotguns had become more widely available and, in 1848, the common man had won the right to own them. He had also won the right to hunt. And what he wanted to hunt was everything: fur, feather, small and big game—on land and in the water. So, naturally, the idea of developing an all-around breed of dog that could point, retrieve, track, swim, and dispatch predators began to take hold. There was only one problem: there were no do-it-all dog breeds around back then, and no one knew how to go about creating one.
WATCH: A Deutsch Kurzhaar Story – Bird Dog Trainer for a Day
For one group of breeders, the solution lay in recreating a type of dog that they believed used to exist. It was their "father's grandfather's" dog—a solid, old-fashioned German hunting dog capable of all things. They even came up with what, to them, was a foolproof way of doing it. They would select and breed dogs that looked like the "Old Germanic" dogs, and the all-around abilities would automatically follow. Unfortunately, this approach was based on two fatally flawed ideas. First, there never were any ancient all-around German hunting dogs. They existed only in the overheated imaginations of the patriots who promoted them. Fervent nationalism blinded them to the fact that their fathers and grandfathers probably never had hunting dogs of any kind, let alone some kind of wonder-dog capable of all things.
Second, they had somehow managed to get the relationship between a dog's function and its form completely backward. Selecting dogs with supposedly Germanic ears and Germanic heads did not automatically make them awesome all-around hunting dogs. In fact, in terms of performance, the more the group clung to their misguided beliefs, the worse it got. They ended up with, as one critic called them, "cold-blooded clods," that lumbered about the field, their heavy bodies and short legs preventing them from moving at anything more than a slow, clumsy trot. Photographs from the period show just how poorly built these experimental beasts were. One, a dog named Feldman I, owned by Prince Albrecht of Solms-Braunfels, looked like he was assembled out of spare parts left over from the creation of the Basset Hound and the Bulldog.
But the breeders adhering to their "form first" idea were led by influential figures such as Karl Brandt. Their main goal was clear: to create a German-looking dog. But in the political context of the time, "German-looking" was code for "not English-looking". So, if English Pointers had short triangular ears, German dogs must have long rounded ears. If the muzzle of the English dogs had a pronounced stop, then German dogs must have little to no stop, and so on.
Fortunately, more level-headed and pragmatic breeders believed that the best way to develop an all-around gundog was to focus on performance and let appearance take care of itself. Their motto was, "durch Leistung zum Typ," or, "form follows function." They believed that the form of a dog must follow its function and that "Germanic" appearance had nothing at all to do with how well a dog could hunt. They even dispensed with much of the nationalistic bombast of their counterparts and crossed their dogs with English Pointers and Setters to gain speed, range, and nose. Eventually, these breeders won the day. Their dogs proved to be superior in every way to the dogs bred by the "form first" group.
In 1879, a standard for the German Shorthaired Pointer was agreed upon and, in 1880, a breed club was formed. Originally called the Brauntigerklubs in reference to the breed's brown and white roan "tiger" coat, the following year it was renamed Klub Kurzhaar. Shortly thereafter, in 1897, the club began holding hunt tests and established its first studbook. Growth for the GSP was steady throughout the early 1900s, and, by the 1930s, overall breed type had been firmly established and the long-sought-after all-around abilities finally secured.
German Shorthaired Pointers and the North American connection
It was around this time, just before World War 2, that the GSP began to appear in North America. Dr. Charles K. Thornton of Montana is usually credited with establishing the breed in the United States in the 1920s and 30s. However, it is known that several GSPs had already made their way to the country, most likely with families emigrating from Germany.
With the onset of the Second World War, imports of German-bred dogs to the U.S. ceased. During the conflict, the GSP, like all the other breeds, suffered terribly. By 1945, it was in rough shape. Many breeders had been killed or displaced and their lines destroyed or reduced to very few individuals. During the first few years of Allied occupation, tests and trials were not permitted and hunting was strictly forbidden. Even meetings among breeders and breed supporters were difficult to arrange. Undaunted, breeders continued to pursue their efforts, and by 1949 were once again testing their dogs in the field.
READ: German Shorthaired Pointers for Waterfowl Hunting
The 1950s and 60s were years of rapid expansion for the breed in Germany and throughout much of the rest of the world. In the U.S., in particular, the breed's popularity grew by leaps and bounds as more and more hunters and field trailers discovered its qualities. By the 1970s, the GSP had become one of the most popular hunting dogs in North America and much of Europe. It remains so to this day.
The Spanish Pointer connection to German Shorthaired Pointers
No one knows the exact mixture of raw material that was used to create the GSP, but most authorities believe that the Spanish Pointer played an important role in the early days. Considering the geography and history of the region, this idea would seem to make sense. After all, Germanic and Hispanic cultures have had close contact for centuries, so there would have been ample opportunity for Spanish dogs to reach Germany. But the same thing could be said about Italian, French, and English dogs—they could have made their way to Germany just as easily. To prove a direct connection between German and Spanish dogs, we need more than just guesswork.
Searching the available literature, I found that most English sources naturally focus on the role Spanish dogs played in the development of the British pointing breeds. German sources were not much help either. They tend to be rather vague, often just referring to dogs "from the Mediterranean area." French and Italian sources frequently mention the possible connections between their dogs and the GSP, but hardly ever mention Spanish or English Pointers. An excellent example is from the book
Il Cane by Angelo Vecchio, published in 1897. According to Vecchio, the GSP was simply:
"…another beautiful degenerate son of the great Italian Bracco! that our German friends don't hear me, otherwise who knows what kind of trouble I would be in. But let's just say that the general form of the German Pointer is an imperfect reproduction of our Bracco Lombardo" (Angelo Vecchio, Il Cane, quoted by Claudio De Giuliani, L' Enciclopedia dei Bracchi, 23-24)
It wasn't until I learned to read Spanish that I found clear indications that Spanish pointing dogs probably did make their way directly from Spain to Germany. Among the most detailed accounts are those found in an article written by José Manuel Sanz Timón, a veterinarian geneticist who has spent much of his life studying Spanish dog breeds and who was instrumental in the restoration of the Burgos Pointer. He wrote:
"...the oldest description of the that we know of is from a German officer of the Legion Guelfa, better known as "The King's German Legion"…a body of mercenaries in the service of the British crown. … Captain Schwertfeger in Hanover, in his book Geschichte der Deutschen Legion Königlich 1907, also cites this breed of dogs as gifts and presents from the patriots in the lands of Burgos and provides this brief description: Strong of body and head, white and brown spots and freckles….These individuals were transferred to Germany and shortly thereafter gave rise to the breed known as the Württemberg Pointer, which was a major input for the genetic selection of the current German Shorthaired Pointer" (José Manuel Sanz Timón, El Perro Perdiguero Burgalés, quoted by Ángel Martíñez Ibáñez, El Perdiguero de Burgos, 34).
In 2008, I traveled to Spain to photograph Burgos Pointers. My first impression of the dogs was that they do resemble the photos I had seen of early GSPs. When I asked their breeders about the similarities, they mentioned that there have been crosses of GSPs into lines of Burgos Pointers in the last 20 years, so that might explain some of the similarities. But they also said that the Burgos Pointer was used to refresh GSP lines many years before that, around the time of the Spanish Civil War in the 1930s.
Searching for documentation to support these claims, I consulted an excellent book about the Burgos Pointer written by Ángel Martíñez Ibáñez. In it, I found the following eyewitness account presented by José Manuel Sanz Timón:
"The Civil War was a time when many individuals of the breed were taken, at ridiculous prices, to Germany. The Condor Legion took planes full of dogs to Central Europe. This event—obviously difficult for the Germans to admit—is true, and there is an exceptional witness. The current colonel, Don Raúl García Bengoechea, who was assigned to the capital of the national zone at that time, personally saw how this emigration was carried out. They bought adult females, pregnant females, and puppies, as well as males. One cannot say how many dogs the Germans took, but it is assumed that it was many—and the best" (José Manuel Sanz Timón, El Perro Perdiguero Burgalés, quoted in Ángel Martíñez Ibáñez, El Perdiguero de Burgos, 51).
So it seems there is very good evidence that at least one breed of Spanish pointing dog, the Burgos, did go to Germany in the 1930s. Others must have preceded it in the 18th and 19th centuries. But exactly how much of a role any breed of Spanish pointing dog played in the development of the GSP is, of course, open to speculation.
Arkwright Pointers and their connection to German Shorthaired Pointers
Another breed often referred to in the history of the GSP is the so-called Arkwright Pointer. It is usually credited with bringing in a high nose, a solid point, and, most significantly, the black coat. Curiously, the term "Arkwright Pointer" only seems to appear in GSP histories. I have found no mention of it in histories of the English Pointer. William Arkwright never called his dogs "Arkwright Pointers"—to him, they were English Pointers with black coats. They had been around for a long time before he began to breed them, and he considered them to be among the purest strains.
So why did the Germans call them Arkwright Pointers? I suspect that it was a matter of political correctness. To avoid using the term English Pointer, they came up with something a little more palatable. A similar situation occurred around the time of the First World War when anti-German feelings were running high in the United States and United Kingdom—the name of the German Shepherd Dog was changed to "Alsatian."
With the tremendous success the breed has had in field trials in the U.S., France, Italy, Spain, and elsewhere, accusations of more recent crossbreeding have been made for decades. The most common "culprit" of these allegations is the English Pointer. Some believe that many dogs registered as German Shorthaired Pointers are now about as German as an order of fish and chips. When I've discussed these accusations with breeders in Europe and North America, I've received answers ranging from vehement denials to sly nods and winks. So far no one has admitted anything publicly, nor has any GSP club officially sanctioned any sort of program to infuse outside blood. Nevertheless, it is reasonable to assume that crossbreeding has occurred in some areas in the last half-century. But just as some of the changes seen in the breed are almost certainly due to the Pointer influence, many are due to highly focused selective breeding done by people trying to build a better mousetrap for different outdoor pursuits, terrains, and types of game.
Craig Koshyk's take on German Shorthaired Pointers
It is often said that the German Shorthaired Pointer is the most popular versatile breed in the world. My travels seem to confirm its No. 1 position. I've seen GSPs in Saskatchewan and Slovakia, Arizona and Austria, and a dozen other places in between. I've seen the wide variety of types within the breed, from traditional utility dogs in Germany, to "little white rockets" in Canada and the U.S., but when it came time to write my views on the breed, one very special dog—from right here in Manitoba—came to mind.
His name was Willy. He was prairie-bred and built like a pickup truck. In his prime, he was one of the best sharptail and pheasant dogs I'd ever seen. But as he got older, the many miles of northern prairie he'd covered began to catch up with him. At 14, he was nearly deaf and blind, but he was still able to hobble around his owner's yard where members of our small pointing dog club would occasionally meet for informal training sessions.
One day, as we were working young dogs on planted pigeons, Willy lay on the grass snoring under the warm summer sun. Out in the field, about 50 yards away, a pup was on point. A handler walked up, flushed the planted bird, and fired a blank. At the sound of the gun, Willy woke with a start. He struggled to his shaky legs and made a wobbly beeline to the field. It took him a while to cover the 50 yards, but once he was there, he made a short cast to the left, another to the right, and found the scent cone. Then, like an ultra-slow motion scene right out of The Matrix, he eased into a picture-perfect point.
I have no idea how many hundreds, or even thousands, of points Willy had made during his lifetime, but standing there that day, I knew I was seeing his last. As his owner took him by the collar and gently led him away, a fist-sized lump formed in my throat. By summer's end, Willy had passed away. A proper gravestone now marks his final resting place near the training field.
To me, and I suspect to many others who had the pleasure of hunting with him, Willy embodied the very essence of his breed: a handsome hunting dog, a brave, loyal companion as honest and strong as the day is long.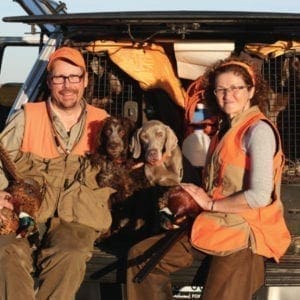 Craig Koshyk
From their home base in Winnipeg, Craig Koshyk and Lisa Trottier travel all over hunting everything from snipe, woodcock to grouse, geese and pheasants. In the 1990s they began a quest to research, photograph, and hunt over all of the pointing breeds from continental Europe and published Pointing Dogs, Volume One: The Continentals. The follow-up to the first volume, Pointing Dogs, Volume Two, the British and Irish Breeds, is slated for release in 2020.