Save those upland bird thighs for a delicious, healthy stir fry meal
Whether you're looking to make good on a 2023 resolution to eat healthier, turn unruly thighs into something incredible, or simply cook delicious upland stir fry, this recipe works for all of the above. Thighs are typically chewy if not cooked low and slow for an extended period. For this recipe, I deboned them, cut them into smaller pieces, and cooked them hot and fast. This way, I can cook them just enough, keeping the collagen from tightening and producing those tougher bites. You can also debone the meat and tenderize it with a meat mallet. However, I didn't do that for this recipe.
READ: How to Butcher an Upland Game Bird
In this version, I use pheasant thighs. A Kansas limit of four roosters produced over 16 ounces of thigh meat, but you can use whatever upland thigh meat you want. You can also use breast meat from any game bird if you don't feel like deboning thighs. Pro tip: it's easier to debone birds when they're partially frozen, so perhaps attempt to debone before they're fully thawed.
The sauce, in terms of the amount listed here, is very light. This is what keeps this recipe's calories low. However, you can double it or even quadruple it. Just make sure you keep the ratios equal.
If you want more vegetables or prefer different ones, you're welcome to swap those out, too. The most caloric component of this dish is the rice, so if you're serious about that resolution, you may wish to abstain from this fluffy treat and go heavy on the veggies.
Simple Upland Stir Fry
Save those upland bird thighs for a delicious, healthy meal
Ingredients
16-20

oz.

upland bird thighs

cut into bits

6

oz.

baby corn

drained

6

oz.

fresh broccoli florets

½

medium yellow onion

cut julienne

1

carrot

shaved into thin strips

2

tsp

freshly minced garlic

Kosher and freshly cracked black pepper

Peanut oil
Sauce ingredients
½

cup

lite coconut milk

1

tsp

fish sauce

1

tsp

Mirin cooking rice wine

⅛

tsp

pure sesame oil
The Rice
2

cups

jasmine rice

2 ¾

cups

cold water

Freshly sliced scallions for garnish

(optional)
Instructions
Cut fresh broccoli into florets, yellow onion julienne (into long strips), and shave off (using a vegetable peeler or sharp knife) your carrot strips. Debone your bird thighs when they are partially frozen and cut the thighs into approximately half-inch-by-half-inch bits.

Keep the cut vegetables and cut meat in separate bowls. Lightly salt and pepper both bowls. Finely mince your fresh garlic cloves.

Heat a large skillet or wok on high heat and add in a thin layer of peanut oil.

Add two cups of jasmine rice to a medium saucepan with 2 3/4 cups of cold water to make the rice. Cover the saucepan and bring it to a boil. Once boiling, turn the heat to low. Once the water is absorbed, turn the heat off. It likely will take a total of 10 to 15 minutes.

Add the cut vegetables and drained baby corn to a hot skillet or wok. Sear them adequately until they're slightly soft. Add the finely minced garlic and cook it for 30 seconds. Remove skillet/wok contents and set aside.

Add a little bit more peanut oil and the bird thigh meat to the hot skillet or wok. Sear it hot and fast. When cooked, add your vegetables back to the skillet or wok along with the sauce ingredients. Thoroughly stir in sauce ingredients and turn the heat to low.

Once vegetables and meat are evenly coated, plate rice and top with vegetables and meat. Garnish with freshly sliced scallions.
Notes
Enjoy! Reach out to me on Instagram (@WildGameJack) with any questions or comments.
Keyword
Pheasant, stir-fry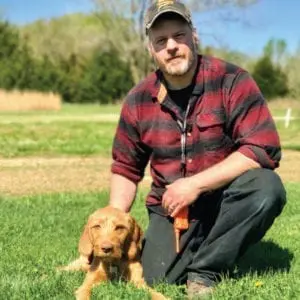 Jack Hennessy
Jack Hennessy grew up in the South Suburbs of Chicago and didn't start hunting until he attended graduate school in Spokane, Washington, at the age of 26. Hennessy began work in professional kitchens in high school but didn't start writing wild game recipes until he joined the Spokesman-Review in 2014. Since then, his recipes have appeared with Petersen's Hunting, Backcountry Journal, Gun Dog Magazine, among many others. He now lives with his wife, daughter, and Wirehaired Vizsla, Dudley, in Wichita, Kansas.