Home » Hunting Dogs » These True Stories of Bird Dog Training Will Give Hope to the Process
These True Stories of Bird Dog Training Will Give Hope to the Process
Photo by Wil Sensing
Explore articles and films from novice bird dog folk in the Project Upland community
The memories have a little less intensity to them from the days I was living them, but I can still recall feeling a level of defeat and impossibility when training my bird dog. I could probably list volumes on the mistakes I made, the lack of hope I had, and the just plain feeling of being lost. I dug through books, videos, and articles to ask simple questions, ranging from "Were do I even begin?" to "What in the world is going on?"
One of the smartest things I ever did was to seek professional help. Getting the opportunity to be with a professional trainer, ask them questions and learning hands-on worked for me. It gave my daily training sessions at home a purpose. Although it seemed like I had a plan, still, I felt alone. So here I've complied a group of stories, articles, and films that might help you feel a little less crazy about how impossible it can seem.
The Novice Muses of Jennifer Wapenski
Jennifer Wapenski lives in the Pacific Northwest along with her husband and Deutsch Langhaar. She got into hunting in a rather untraditional manner and is a first-generation hunter. Her first story with us was, "What Just Happened to My Life: Bringing Home Our First Gun Dog" and has now progressed into her second season with her first bird dog.
"A yapping ball of fur and puppy teeth came tumbling around the tree. We'd just picked up our brand new Deutsch Langhaar puppy, along with her littermate who was headed to another nearby home and were beginning the cross-country trip home to Washington. An hour into the three-day journey, we decided to take a break and sort things out. We were outnumbered by canines and totally out-energized by the eight-week-old puppies. Our lack of preparation quickly became evident when one puppy took off for the pond and another for the cornfield. Suddenly we were in crisis mode, trying to corral the little beasts and restore some order to the blazing hot afternoon. The old dog just huffed and rolled her eyes. In that moment, we all knew that life had turned upside-down."
Her humorous narratives like "Things They Don't Tell You About Bird Dog Training – Pigeons are Disgusting and Other Surprises" are entertaining for even those well into the bird dog world. Some are increasingly candid like "Our First Bird: Lessons in Humility".
"This is the moment where I'd like to press pause. I'd like to go back to this moment, calm myself down, and think rationally about the next steps. I'd like to consider the fact that my puppy had never held a fresh bird, let alone retrieved one to hand. It was a lot to ask of a young dog. With all the luxury of hindsight, I'd like to return to that moment, snap her on a lead, and set us both up for success.
But I didn't do any of those things. Elated and coursing with adrenaline, I sprinted toward the feathers and began to search for a tiny blue-gray bird in an endless field of blue-gray shrubs. The puppy stuck her nose in the feather pile and executed a flawless track that led directly to the bird. She grabbed it without hesitation. I beamed. This was our moment.
Then she took off for the distant horizon."
Jennifer's work has appeared in Project Upland Magazine as well as a more recent article on Endless Migration. Her candid and honest look is very easy to get through with her doses of humor, yet her determined and methodical approach can be admired for those aspiring to build a field-test-worthy dog.
A Boy, A Puppy and a Writer
Chet Hervey has a professional writing background, his stories are compelling, well structured, and you could have guessed it . . . candid. His first article, "The Other Reasons We Buy Hunting Dogs," starts the story off right with the dynamic of his son and the new adventure of a bird dog.
"I was sitting on the sideline of my son's soccer game, watching the ball bounce merrily back and forth between clusters of second graders. My son, playing goalie at the time, was most certainly not watching the ball. His eyes were trained on a little brown blip that was running back and forth along a chainlink fence fifty yards away, marking the edge of the park.
'DAD!' shouted my inattentive goalkeeper, 'look at that awesome dog!'
I squinted. Recognizing that the brown blip was actually a chihuahua, I sighed, realizing I had to teach my son what the word 'awesome' means.
After a fatherly admonition ('Watch the game, son!') I turned to my wife. She simply nodded. We knew the time had come."
His more recent work appeared in the Spring 2019 Issue of Project Upland Magazine in the article "I Had My Doubts." As he has progressed past his first season with his female Braque du Bourbonnais, there will no doubt be more stories to come.
"I had seen it done on a few YouTube videos. A couple of milk-bellied German shorthaired pointers (GSPs) with a single paw held aloft, carved out of granite. The trainers would stand nearby with a fishing pole in hand and a steely eye focused on their 10-week-old pupils. Then, just as one made a move to lurch, the trainer would dutifully whip the wing skyward with a flick of his wrist.
Wing on a string.
Seemed simple enough."
The First Season and Confessions of a First Time Bird Dog Owner
Now I could not go any further without pointing out my errors and at some points train wreck of a wonderful adventure. My wirehaired pointing griffon and I have been documenting our story from the day we chose him all the way to his upcoming third season. I wrote some articles on the story (more confessions are still needed). Articles like "I Need More Training than my Gun Dog" all the way to errors on the hunt like "Hard Lesson Learned on Wind Direction and Hunting Dogs."
"We began our decent, my gun at the ready. Grim worked his way side-to-side, nose to the ground. I noticed a bit of get-up in his step.
'Is he getting birdy?' I thought.
Then it all happened.
I saw a grouse standing on the ground ten yards behind Grim as he passed nose to the ground in front of me. The flight path: a perfect trajectory down an old tote road. This was textbook. I had made these kinds of shots a hundred times before and was prepared with chess move precision through covers for the shot of least "resistance." The bird flushed and I mounted my gun. Before I even drew a bead on him, I looked back at Grim continuing to the left, oblivious to the drama unfolding in front of us. I never fired a shot.
I think I scratched my head. 'Did I break my dog?'"
My writing is not that of some of the greats like Burton Spiller or George Bird Evans, so I prefer to use film as my go-to medium. I feel more at home with a camera and perhaps my "greatest confessions" were in the film "First Season." For 12 minutes I bring our story from the day we picked Grim up at the breeder to the final days of the first season on wild birds.
"There are many firsts along the road of a gun dog. Some good, some bad, but all part of an incredible journey . . . It will challenge who you are, define an aspect of life that has been missing. They will steal you heart and lure you further into the uplands."
My greatest hope was that this film would help others along a road that often seems impossible. Maybe give a little more comfort in moments of failure or even greater in moments when nothing seems possible. This story is still not over and the film, photo, and words will continue to go to Grim's final days in our family.
We will continue to find more writers, film new stories, and celebrate the incredible journey of birds dogs from the moments of novices all the way to seasoned veterans. Hang in there, enjoy every moment, and love your dogs.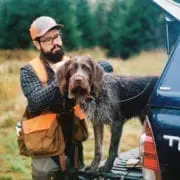 A.J. DeRosa
A.J. DeRosa founded Project Upland in 2014 as an excuse to go hunting more often (and it worked). A New England native, he grew up hunting and has spent over 30 years in pursuit of big and small game species across three continents. He started collecting guns on his 18th birthday and eventually found his passion for side-by-side shotguns, inspiring him to travel the world to meet the people and places from which they come. Looking to turn his passion into inspiration for others, AJ was first published in 2004 and went on to write his first book The Urban Deer Complex in 2014. He soon discovered a love for filmmaking, particularly the challenge of capturing ruffed grouse with a camera, which led to the award-winning Project Upland film series. AJ's love for all things wild has caused him to advocate on the federal and state levels to promote and expand conservation policy, habitat funding, and upland game bird awareness. He currently serves as the Strafford County New Hampshire Fish & Game Commissioner in order to give back to his community and to further the mission of the agency. When those hunting excuses are in play, you can find him wandering behind his Wirehaired Pointing Griffon in the mountains of New England and anywhere else the birds take them.