Home » Hunting Culture » Why Upland Hunters Need to Share their Covers
Why Upland Hunters Need to Share their Covers
Photo by A.J. DeRosa
The future of upland hunting is more important than our personal needs.
I hate to use the word I almost as much as I hate to generalize people. That starts this article out on the wrong foot, but it is something that needs to be said. Far too often, I hear upland hunters complain that there is not enough new blood getting into the tradition. The overly loud and angry folk ignore the fact that they are part of the problem. They also tend to have one response to the question I can never contain myself from asking:
"Why don't you find some local young deer hunters or aspiring hunters? Why not bring them with you to your covers and show them the ropes?"
"I am not taking anyone to my covers," is almost without exception the response.
Upland hunting is a breeding ground for some of the most important conservation fights in modern American environmental issues. And if we are serious about preserving it, we need to learn a bit about selfless acts.
I am far from being an upland expert. In fact, I spend far more time filming upland hunting than actually hunting. But I have made it a point to always offer up my help as well as my covers to aspiring upland hunters. I am not saying you should broadcast your covers to the world (I am sure plenty will comment asking where all my covers are). What I am saying is that we must all do our part.
If a miracle happened and we all decided to mentor two new upland hunters in our life, we could double our numbers within a generation. They might continue the tradition to the next generation after them. I think we all know where the math is going here. As role models and teachers, we should pass on the tradition instead of giving into the selfishness that so often rears its ugly head.
Teach a new hunter to respect coveted covers. Teach them to never command another hunter's dog. Teach them safety in the field. Help them get their first bird, train their first dog, find their first cover. Deny a person the help to hunt and curse our future. Fail to recruit and we fail our most important mission yet—conservation.
The time to give up the secrets to our mysterious behavior is now. When it comes to this fight, the issue is not about the past but the present. I am a firm believer that each of "my" covers do not belong to me. They belong to the future. They belong to any hunter willing to put in an honest day of boots to the ground to continue the world of upland hunting.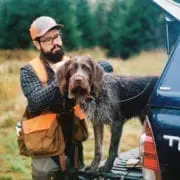 A.J. DeRosa
A.J. DeRosa founded Project Upland in 2014 as an excuse to go hunting more often (and it worked). A New England native, he grew up hunting and has spent over 30 years in pursuit of big and small game species across three continents. He started collecting guns on his 18th birthday and eventually found his passion for side-by-side shotguns, inspiring him to travel the world to meet the people and places from which they come. Looking to turn his passion into inspiration for others, AJ was first published in 2004 and went on to write his first book The Urban Deer Complex in 2014. He soon discovered a love for filmmaking, particularly the challenge of capturing ruffed grouse with a camera, which led to the award-winning Project Upland film series. AJ's love for all things wild has caused him to advocate on the federal and state levels to promote and expand conservation policy, habitat funding, and upland game bird awareness. He currently serves as the Strafford County New Hampshire Fish & Game Commissioner in order to give back to his community and to further the mission of the agency. When those hunting excuses are in play, you can find him wandering behind his Wirehaired Pointing Griffon in the mountains of New England and anywhere else the birds take them.