Home » Hunting Culture » I Need More Training than my Gun Dog
I Need More Training than my Gun Dog
Our own abilities and dedication are the solid foundation of gun dog training—Confessions of a first time dog trainer.
As I progress throughout the first year of my gun dog's life, a Wirehaired Pointing Griffon, I find myself in awe more than ever with the beauty of a point. At the same time, I am also second guessing my own abilities. I had never been more excited than the first time Grim (not Grimm) pointed. I'm captivated by his natural ability and don't think I have contributed anything more than food, shelter, and excessive love to this gun dog.
A few months later, I find myself last in the class after my gun dog. Grim, however, is like clay ready to be molded and is ready to be taught the finest gun dog skills. My trainer is Dave Trahan, the National President of NAVHDA (North American Versatile Hunting Dog Association). He has already done wonders with my Griffon—I'm another story. A stern lecture on my dedication to the process was in order. So was the discipline needed to mold a solid gun dog.
I was at it twice a day without fail for the first month of training. But as the months went by, I found myself making more and more excuses. You know, work. Obligations. It did not take long for my lack of discipline to rub off on Grim. Add in cabin fever with this long winter, and Grim was acting out. No fault of his own, as it was my lack of self-training that created this situation. The reality check of his increasingly high maintenance behavior finally reeled it in for me. After an embarrassing training session with my pup, Dave pointed out the need for me to engage more consistently and routinely with my gun dog.
Dave was right. Not even a week after that training day, I started to see behavioral changes in Grim, as I started to learn just how important my role was in training my gun dog. Now Grim has begun to learn even faster. This experience has made me come to reality. Although Grim has amazing natural abilities as a gun dog, my failures could quickly ruin those beautiful points that he has already shown a knack for.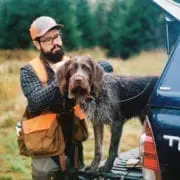 A.J. DeRosa
A.J. DeRosa is an American filmmaker and the Founder and Creative Director of Project Upland. While he is most widely known for the award-winning Project Upland series, he made his first mark in the hunting industry as the critically-acclaimed author of the cult classic The Urban Deer Complex and, more recently, The Urban Deer Complex 2.0. A.J. expanded his work toward the larger mission of recruiting and welcoming millennial hunters by conducting and applying cutting-edge market research across the Project Upland Media Group brands. Now a passionate bird hunter, you can find A.J. following Grim, a Wirehaired Pointing Griffon, through the uplands with his wife, Sabrina, and oldest son, Marty McFly.