Home » Hunting Culture » Fueled – A New Sporting Dog Podcast Hosted by Dr. Joe Spoo
Fueled – A New Sporting Dog Podcast Hosted by Dr. Joe Spoo
Photo by Kevin Erdvig
Project Upland got a chance to hop on the new Fueled podcast hosted by Dr. Joe Spoo and presented by Eukanuba Sporting Dog.
If you've been following Project Upland you've probably heard us speak about Dr. Joe Spoo. In fact, you've most likely come across the @gundogdoc before we were chirping about it, maybe even seen him at seminars with some of the leading dog brands in the country. And more recently you have seen some of his work appearing in Project Upland to help expand the information and knowledge of sporting dog first aid and care.
Dr. Joe Spoo is a member of the American College of Veterinary Sports Medicine and Rehabilitation (ACVSMR) which is essentially a group of doctors dedicated to sporting dogs. It's a world focused on expanding the knowledge, research, and advancement of those animals that push their limits as athletes.
Now Dr. Spoo has his own podcast! Presented by Eukanuba Sporting Dog, Fueled is everything sporting dog. His expertise brings to light new angles and ideas that a veterinary expert captures in everyday life. He's a gun dog owner, bird hunter, and family man. He's a great addition to the podcast landscape for the upland community.
Subscribe on Apple: FUELED #4: AJ DeRosa – Project Upland
Dr. Spoo said, "Our hope with this podcast is to talk to the leading experts in the world about subjects near and dear to the hearts of sporting dog owners and bring them the best information possible about topics that affect their companions. There is an overwhelming amount of information out there that hasn't been vetted by the scientific community. Our goal is to bring science and facts to the discussion in an informative and entertaining manner. Eukanuba was the perfect partner in this venture with their commitment to cutting edge research resulting in formulas designed specifically for athletic dogs. It's also been the brand I have turned to for most of the last 20 plus years starting with my first sporting dog during veterinary school. They have helped raise my crew of canine athletes, and now with this partnership will help bring vital information to help others improve the health of their dogs."
On Episode 4, I got a chance to hop on the podcast and talk about the founding of Project Upland, R3 in hunting (Recruit, Retain, Reactivate), including recent research we did in collaboration with Eukanuba Sporting Dog on the use of dogs to increase hunter numbers in North America. It's an important part of the ongoing collaborative effort to help grow the upland community and expose it to mainstream culture in a positive light.
Read: Can Bird Dogs Help Save the Future of Hunting?
Although this podcast is not part of coveted Project Upland Listen, we are stoked to see something come together of this caliber. You can be sure that the folks at Project Upland will be listening along with the community, discussing and learning new things relevant to our passion thanks to Dr. Joe Spoo. Head on over to wherever you bing your podcasts and rate, review, and subscribe. Also feel free to share you favorite episodes inside the Project Upland Community page.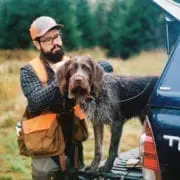 A.J. DeRosa
A.J. DeRosa founded Project Upland in 2014 as an excuse to go hunting more often (and it worked). A New England native, he grew up hunting and has spent over 30 years in pursuit of big and small game species across three continents. He started collecting guns on his 18th birthday and eventually found his passion for side-by-side shotguns, inspiring him to travel the world to meet the people and places from which they come. Looking to turn his passion into inspiration for others, AJ was first published in 2004 and went on to write his first book The Urban Deer Complex in 2014. He soon discovered a love for filmmaking, particularly the challenge of capturing ruffed grouse with a camera, which led to the award-winning Project Upland film series. AJ's love for all things wild has caused him to advocate on the federal and state levels to promote and expand conservation policy, habitat funding, and upland game bird awareness. He currently serves as the Strafford County New Hampshire Fish & Game Commissioner in order to give back to his community and to further the mission of the agency. When those hunting excuses are in play, you can find him wandering behind his Wirehaired Pointing Griffon in the mountains of New England and anywhere else the birds take them.